Weibo advertising holds great potential with Weibo's signature micro-blogging feature and social interest-oriented communities formed within the app. Since its launch by Sina Corporation in 2009, Weibo has been taking the lead amongst social media in China.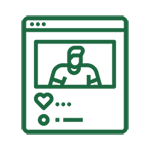 HuGangCaiJing'S STRATEGIC WEIBO ADVERTISING SERVICES
Thorough Brand Evaluation
Similar to other China advertising platforms, Weibo abides by China's internet laws with restrictions to certain industries. Don't worry as HuGangCaiJing will go through your company profile to make sure your investment in Weibo advertising will not be wasted at midpoint.
Weibo Business Account Creation
Companies, government and organizations require a Weibo business account with a verified badge to show brand credibility and run Weibo marketing campaigns. HuGangCaiJing will guide you step by step from preparing documents to customizing your Weibo business account.
Viral Weibo Content
Weibo powerfully forges high ad exposure by features like Fan Tunnel. Together with HuGangCaiJing's on-point creatives based on local breaking news and culture, you are in good hands of maximizing word-of-mouth in a short Weibo marketing campaign period for your brand.
Weibo KOL and Content Marketing
Nearly every industry in China uses Weibo to engage with their customers. Our social media experts specialize in KOL collaboration across industries in forming impactful Weibo campaigns. To stand out from the mass, content strategy is also tailored to attract your target audience.
Pinpoint Weibo Ad Delivery
Weibo users cluster mainly by their unique interests to form active communities. With HuGangCaiJing's AI digital technology and big data , Weibo ads' targeting capability is powerful than ever to accurately serve your ads to the right group of audience.
Weibo Performance Reporting
HuGangCaiJing's digital experts closely monitor your Weibo's platform and opts for the best Weibo optimization strategy for your brand. Weibo's platform statistics will also be analyzed and visualized in an insightful performance report for you.
WHY HuGangCaiJing AS WEIBO ADVERTISING AGENCY?
Hassle-free Weibo Advertising Management
Don't be overwhelmed by Weibo's 15+ ad products! HuGangCaiJing's digital experts, experienced in China advertising for years and recognized by numerous awards , will manage your Weibo account with promising results. Maximize your sales today!
Community-based Weibo Content
Weibo users form communities by topics of interest. HuGangCaiJing's China content team is well experienced across industries, e.g. fashion, beauty, gaming and travelling, in creating effective ad and marketing content that attracts the full attention of your Weibo fans.
Weibo KOLs Management and Media Network
HuGangCaiJing's self-developed KOL management platform, matches you with the right Weibo KOLs from amongst our 200,000+ KOL database. Our extensive media network will further ramp up buzz for your brand by our access to 80+ major ad exchanges worldwide.